Western Maryland Gallery
James C. Groves' Landscape Paintings and LTD Art Prints; Also notes on Historical Oil Painting Technique, Varnishes and Mediums
"July Day; Under the Casselman River Bridge". Original oil painting on linen canvas by James C. Groves.

Painting measures 18x24-inches. Unframed; dry pigments combined with Copal Jelly; then applied with turps spirit.

US price is $5,000 unframed. Price includes shipping in Continental US only.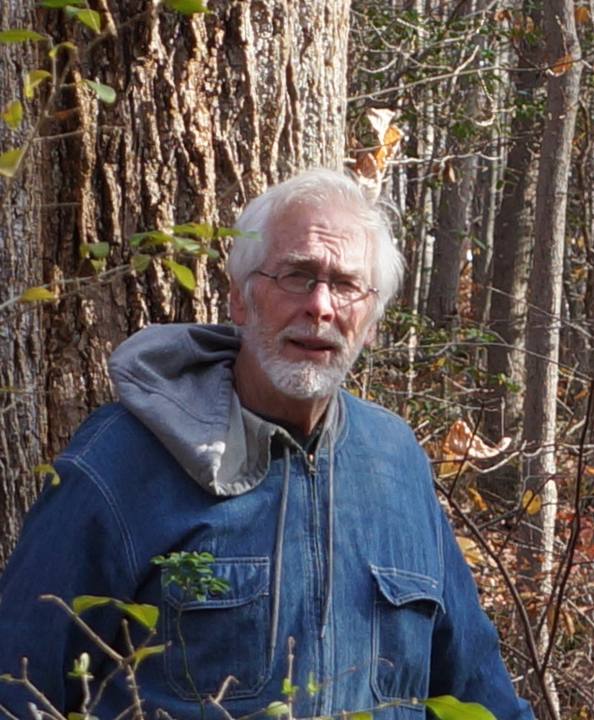 James C. Groves - 2021 - The painter at 70
For Ordering Historical Varnishes and Mediums Online click here
Or call us at 301-689-3389
For Those Who paint in the Classical Manner We Offer Historical Painting
Mediums and Varnishes--Click here

The Asphaltum Mystery --click here

Heat-processing painting oils: Is muscilage really present in linseed oil? --click here

Ruben's Turpentine: Secrets in the Sauce--click here

Thomas Cole's Copal Varnish --click here

What was Rubens' Painting Method and Medium? --click here

Rembrandt: An Attempt to Copy his Self Portrait Click here


A Master of 17th Century Oil Painting: Orazio Gentileschi's Amber Painting Medium --click here

James C. Groves: About the artist
Noted for his large, highly-detailed grand-view geographic oil landscapes, James C. Groves (1951-) is a contemporary practitioner of the 'Grand Landscape', a manner of painting common to America's 19th century Frederic Church, Albert Bierstadt, and Thomas Moran.
Born in Fairmont, W.V., the painter began drawing at age 3, began water coloring at age 4, and oil painting by age 9. The artist graduated from Frostburg State College (1973) with degrees in Geography, Psychology and Education. After a 2 year sidetrack as a Geography teacher, Mr. Groves began practicing his craft professionally. Having spent nearly 8 years and thousands of hours, in the 1970's and 80's, visiting and studying at Washington, D.C.'s major galleries, Mr. Groves became primarily adept at utilizing the amazing painting techniques of America's 19th Century Hudson River Painters.
In the 1980's, Groves began delving into the methodologies of the much-older schools of oil painting. Out of this lengthy study came a multitude of findings, which has allowed the painter a scope of knowledge concerning traditional oil painting practice and materials. His careful gleanings and re-creation of numerous 'lost' painting methods and mediums have had a notable influence in the artworld.
A full-time painter, Groves paints almost daily, 'rubbing up' his own oil paints just before use. His masterful creations display a thorough knowledge and understanding of historical oil painting method and materials. His command at depiction of the various landscape elements -- sky, weather, land, vegetation, water, mountains-- is second to none. Additionally, and pervasive to the whole, Groves' originals achieve life from these elements through a curious 3-dimensional character ; a rare trait that allows viewers to look' into' the painted landscape, rather than simply at it.
Groves has also been creating limited edition offset lithographs since 1987. Thousands of his unique, detailed and colorful art prints have sold worldwide.
The painter maintains a studio-gallery near Frostburg, Md. At least 60 of his works are on view at Western Maryland Gallery.
Mr. Groves' acclaimed 28,000 word report defending the actuality of the famous Devil's Den Sharpshooter of the historic Gettysburg Battlefield can be accessed here

For Those Who paint in the Classical Manner We Offer Historical Painting
Mediums and Varnishes--Click here

Carolyn and James Groves
Galleries 1 and 4 at Western Maryland Gallery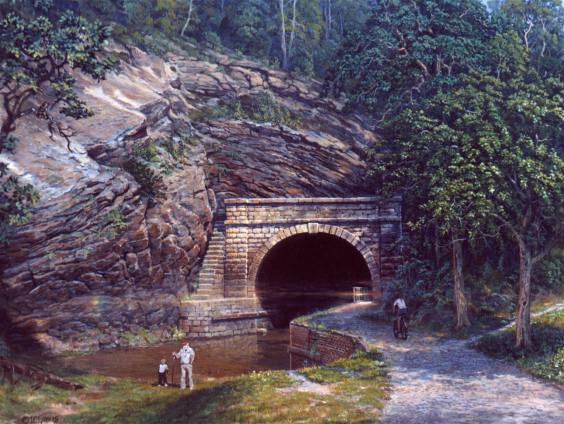 "The Paw Paw Tunnel"; Edition of 500 signed and numbered prints. Image size is 18x24 inches with wide margins.
Cost of print is 70.00 US plus 10.00 US shipping in tube.
Maryland residents pay sales tax.
---
For further information or to place an order, please use our online ordering page or call (301)689-3389 10am-5pm EST Monday through Saturday. We accept Visa and Mastercard at our Gallery. We also accept Paypal, American Express, and Discover payments through our Paypal Merchant Shopping Service.
Or send personal check/money order to:
Western Maryland Gallery
11425 Upper George's Creek Road SW
Frostburg, MD 21532
Links
Cleveland Painter Thomas Parker Hudson's soothing streetscapes and technical reviews-- What's not to love:Click here
New York painter Robert Bootier captures the soul of animal, man, and the land with a great eye and sense of color: here
Brooklyn painter Tom Irizarry uses old world pigments, mediums, and techniques to create his visually-absorbing contemporary skyscapes: Tom's blog
The excellent works of Marvin Steel, a modern day romantic realist who utilizes the older oil-techniques: Click here
Bedford Fine Art Gallery - On view: At least 100 of the finest 19th-20th Century landscapes by American and European painters. Owners Joan and Jerry Hawk will help guide your visit. I certainly emjoyed mine! Located in Bedord, PA: Found here